Anderson Silva is coming back, his positive test for PEDs has been cleared up by USADA.
Silva was able to prove that the positive test results were from a tainted supplement and not from the intentional use of banned substances. Silva was scheduled to take on Kelvin Gastelum at Fight Night 122 when the positive test occurred. The Spider feels vindicated but questions still remain.
"I feel that the most important thing was establishing the truth. The doubt about what really happened was bothering me the most," Silva said. "Some people kept asking me to talk, but I didn't say absolutely nothing because I wanted the truth to come out. I never needed any type of illegal substance to fight, I'm against that, and thank God the truth was established."
Anderson Silva's suspension will come to an end on Nov 10th 2018, and since he has 3 fights left on contract, what is the next move for the 43-year-old former Champion? Does he want to possibly go out on his shield in a quest for one last run at the belt or does he want to take on lesser opponents in order to go out a winner?
MIDDLEWEIGHT
Champion: Robert Whittaker
1 Yoel Romero
2 Luke Rockhold
3 Chris Weidman
4 Kelvin Gastelum
5 Jacare Souza
6 Derek Brunson
7 David Branch
8 Paulo Costa
9 Israel Adesanya
10 Brad Tavares
11 Antonio Carlos Junior
12 Uriah Hall
13 Thiago Santos
14 Elias Theodorou
15 Krzysztof Jotko
*Rankings according to UFC on 7/26/18
In life timing is everything, sadly Anderson's return eliminates a lot of the top fighters at 185lbs.
On Nov 3rd, #2 Luke Rockhold v. #3 Chris Weidman is happening at UFC 230 along with #5 "Jacare" Souza v. #7 David Branch and #1 Yoel Romero v. #9 Paulo "The Eraser" Costa. #11 Antonio Carlos Junior was scheduled to fight #6 Derek Brunson but that fight was pushed back due to an injury to Brunson. While "Cara de Sapato" has been rescheduled to September 22nd, Brunson still might not be available by then. #13 Thiago Santos has a just agreed to fight up and comer Kevin Holland. This leaves 5 realistic options for Anderson.
Option 1: SuperFight – Anderson Silva v.  Georges St. Pierre
(BJPenn.com)
This is the fight people have been clamoring for, the fight that has been talked about for a decade. Even though both fighters are past their prime this fight would probably break PPV records if the card was set up correctly. GSP has shown that he can succeed at Middleweight with his victory over Michael Bisping. Although, Georges has in the past expressed that he does not think a fight is worth it anymore because Anderson is not what he used to be. With nothing left to prove, and the UFC moving more an more towards super-fights over belts, it would benefit each fighter to cash in at the end of their careers to give the fans what they want and to set up their future endeavors.
Option 2: The Past vs the Future – Anderson Silva v. Israel Adesanya
Israel "The Last Style Bender" Adesanya has expressed interest in fighting his idol. The Spider and Adesanya share a similar inclination towards elite striking and showmanship. Israel even promises that he will not try and take down Anderson and instead limit his exchanges to the feet. As most people, know Anderson's career has been marked with spectacular finishes that featured his Muay Thai and led to a streak of 16 straight wins in the UFC, Adesanya has used his Kickboxing base to amass 14 straight wins in his career. This would seem to be the most plausible fight to make that Silva has a reasonable chance of winning. Even has his skills fade, Anderson Silva has enough guts and guile to overcome the youthful exuberance of the fast-rising Adesanya.
Option 3: The Fight That Never Was – Anderson Silva v. Uriah Hall
This fight was scheduled to go down at UFC 198 before Silva had to pull out for emergency surgery on his gallbladder. Hall wanted to rebook the fight after Gastelum failed a drug test for UFC 212. Hall is coming off of a knockout loss to Paulo Costa at UFC 226 but the 33-year-old fighter is still ranked and would make for a good stepping stone for Silva in his pursuit of the belt. Hall is a striker with thunder in his hands that would match up well with the smooth striking of the Spider. Hall has never lived up to the potential that was foreseen for him when he left The Ultimate Fighter.
Option 4: Controversial Rematch – Anderson Silva v. Derek Brunson II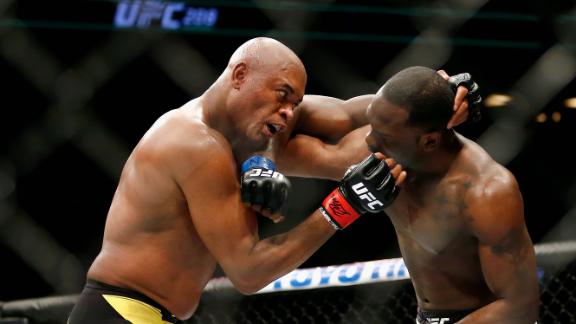 (ABC News)
Silva's last match before the suspension was his disputed decision over Derek Brunson. I scored the fight 29-28 Silva even though there were moments when it looked like Silva was just too old and slow to compete. He did a marvelous job of selling his superiority in the ring. Since there are so many top contenders booke up and it looks like Brunson will not be ready for the match against "Cara de Sapato" this would be a great revenge fight. It would solidify the Spider's place if he won convincingly and it would settle an old score if Brunson could reverse the result. It is not the sexiest return for Anderson but it would be solid against a Top 10 opponent.
Option 5: Last Resort – Anderson Silva v. Elias Theodorou
Finally, we have Elias Theodorou as a last resort fight for the return of Anderson Silva. "The Spartan" is coming off of a win against Trevor Smith, but his last 6 fights have ended in decisions. This is a positive for Anderson because he does not have the kind of quick-twitch power punching style that is dangerous for a counter-striker who has lost a step. This is not a glamours fight, but if Silva is serious about trying to mount one more charge up the Middleweight hill it could start with this Canadian pretty boy. He would beat a Top 15 fighter with a serious case for an upgrade into the Top 5 with his eyes on the belt.
Final Thoughts:
Obviously, option 1 is the most unrealistic. GSP has been dealing with his medical issues since before he abdicated the 185 lb belt. St. Pierre has shown little inclination towards returning to the ring but if Dana White and the UFC throw enough money his way it might lure the two divisions champion back. Option 2 is the most realistic it would allow the UFC to showcase the next generation while using the legacy of Anderson Silva to sell Pay-Per-View purchases. Options 3-5 are really just ways for the UFC to decide if Anderson Silva has anything left in his 3 remaining fights. If he can score a convincing victory in those 3 it could lead to fights up the chain that could accomplish the Spider's goal of mounting one last charge of the Middleweight mountain.
Let Us Know Who You Think Anderson Silva Should Fight Next Below.